Perinatal Health Partners
These services are available at no cost to the client.
Perinatal Health Partners (PHP) is an in-home nursing case management program for medically diagnosed high-risk pregnant women. The major goal of the program is to maximize pregnancy outcomes for mothers and their newborns, and decrease the infant and maternal mortality rate in 12 rural southeast Georgia counties by: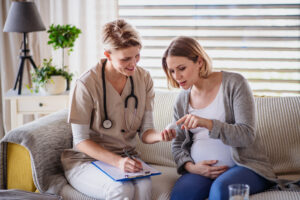 Earlier identification of high-risk prenatal and inter-conceptual patients
Partnering with local OB/GYNs, Savannah Perinatology Associates, local birthing hospitals, and county health departments to provide a regionally coordinated system of perinatal care, including: referrals, perinatology consult, and Level II ultrasounds
Perinatal Health Partner services include:
Clinical assessment of mother and baby
Care coordination
Case management
Education for high-risk pregnant women and their families
Linkages to needed resources
Anyone can advocate for a client to be enrolled in PHP, it is at the discretion of the perinatal provider or a medical professional to make the referral. The perinatal provider or medical professional refer clients for enrollment and are active participants in customizing each clients plan of care according to their medical/psychosocial needs.
Criteria for enrollment may include:
History of miscarriage (two or more) or second or third trimester pregnancy loss
Previous fetal/neonatal death (if baby dies due to prenatal complications)
Prior premature labor/delivery or PROM
Incompetent cervix
Diabetes – gestational, type 1, or type 2
Pregnancy induced hypertension (PIH) – Preeclampsia
Preterm labor
Multiple gestation with complications (current pregnancy)
Pre-existing medical conditions (i.e. hypertension, lupus, auto-immune disease, cardiac disease, epilepsy, HIV, etc.)
Fetal abnormality (current pregnancy)
Advanced Maternal Age
Teen Pregnancy
PHP provides services in the following counties:
Appling
Atkinson
Bacon
Brantley
Charlton
Clinch
Coffee
Jeff Davis
These services are available at no cost to the client.
Additional Resources
PHP Advocacy and Referral Form (PDF)
2016 PHP Final Evaluation
Contact Holly Mobley, PHP Coordinator at (912) 389-4714 or your local county health department for additional information.