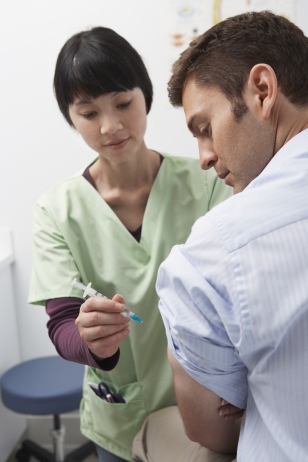 Vaccination is one of the best ways parents can protect infants, children and teens from 16 potentially harmful diseases.
Vaccine-preventable diseases can be very serious, may require hospitalization, or even be deadly – especially in infants and young children.
Adults need to keep their vaccinations up to date because immunity from childhood vaccines can wear off over time. You are also at risk for different diseases as an adult.
Vaccination is one of the most effective preventive care measures available. Adult and childhood immunizations are available on a walk-in basis at all local county health departments in the Southeast Health District.
Not sure what immunizations you or a loved one may need?
Click here for easy to read immunization schedules by age and/or medical condition.
The Georgia DPH Immunization Program website provides information about immunization requirements for school and day care, parent resources, etc.
Immunization Requirements for Children Attending Seventh Grade
Effective July 1, 2014, children born on or after January 1, 2002, who are attending seventh grade and students who are new entrants into Georgia schools in grades 8 through 12 must have received one dose of Tdap vaccine and one dose of meningococcal vaccine. ("New entrant" means any child entering any school in Georgia for the first time or entering after having been absent from a Georgia school for more than 12 months or one school year).
NEW Immunization Requirements for Children Attending Eleventh Grade
Before starting the 2021-2022 school year, all students entering or transferring into 11th grade will need proof of a meningococcal booster shot (MCV4), unless their first dose was received on or after their 16th birthday. Meningococcal disease is a serious bacterial illness that affects the brain and the spinal cord. Meningitis can cause shock, coma and death within hours of the first symptoms. To help protect your children and others from meningitis, Georgia law requires students be vaccinated against this disease, unless the child has an exemption.
Are there other vaccines recommended for adolescents and teens?
Yes, CDC recommends a seasonal influenza (flu) vaccination to protect teens from the flu, and HPV vaccination to protect them from most of the cancers caused by human papillomavirus (HPV) infection. Although not required for school attendance in Georgia, they are strongly recommended. They can be given at the same time as other vaccines.
Other Helpful Resources:
Travel Immunizations
Immunizations for people traveling to countries outside of the United States are offered at the Ware County Health Department.  Most vaccines require about 15 to 30 days to provide full protection, so it is important to plan ahead. To schedule an appointment, please call 855-473-4374.
For more information about vaccines needed for travel, visit these websites: