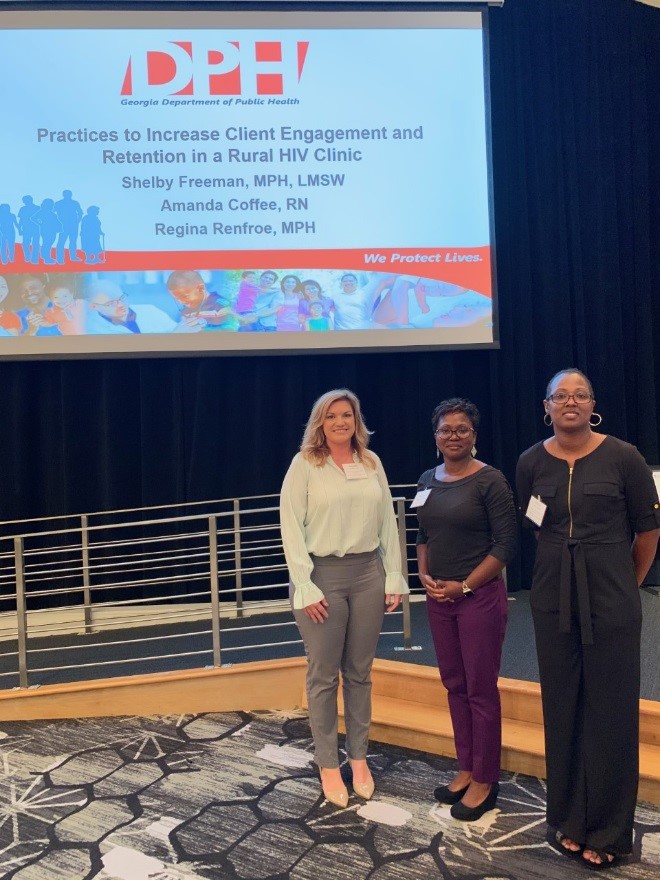 During the morning session at the 8th Annual State of the Public's Health Conference held in Athens on October 22, Southeast Health District's very own Wellness Program Manager Shelby Freeman, Wellness Nurse Manager Amanda Coffee, and Wellness Coordinator Regina Renfroe shared their "Practices to Increase Client Engagement and Retention in a Rural HIV Clinic" presentation with those in attendance.  Their presentation included exploration of how the services of their program are utilized in rural settings. They were able to provide implementable ideas and practices that can reduce access barriers to healthcare for clients and promote person-centered interventions.
The goal of the State of the Public's Health (SOPH) Conference at the University of Georgia is to create an atmosphere for meaningful, constructive dialogue, while creating practical solutions for Georgia's public health challenges.  Through driving discussions and idea sharing in interactive, solution-driven workshops, poster sessions, and presentations, the SOPH desires to create a practical, pragmatic plan of action that incorporates ways to approach the opportunities and challenges that confront Georgia's public health system. This event is held annually and is part of the University of Georgia's Continuing Education opportunities.
We are grateful to have these women as part of the Southeast Health District. These leaders contribute greatly in furthering our mission! Here at the Southeast Health District, our mission is to promote and protect the health of people in Southeast Georgia, wherever they live, work and play, uniting with individuals, families and communities to improve and enhance their quality of life.