Georgia's Preteen Vaccine Awareness Week is an annual observance aimed to help raise awareness and encourage preteens to make smart, healthy choices including defending themselves against vaccine-preventable diseases.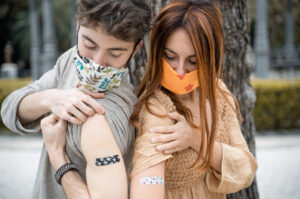 Georgia Preteen Vaccine Awareness Week is a statewide observance, celebrated March 14-18, 2022.
Georgia Preteen Vaccine Awareness Week promotes immunization among preteens and encourages practitioners and parents to utilize the preteen doctor visit as an opportunity to update vaccinations that can protect preteens and teens from very serious, yet preventable diseases.
Recommended Immunizations for Preteens 11 to 12 years
Human papillomavirus (HPV) (2-shot series) to protect boys and girls from HPV-related cancers and infections
Meningococcal conjugate (MenACWY) vaccine helps protect against some of the bacteria that can cause meningococcal disease, including sepsis and meningitis
Tdap vaccine is recommended for protection against tetanus, diphtheria, and pertussis (whooping cough)
Everyone 11-12 years of age and older should get a flu vaccine every year
Preteens may also need to catch up on other immunizations, including chickenpox (many do not have their second dose), MMR (measles mumps, rubella), hepatitis B, and COVID-19
Thank you for keeping our preteens healthy!
Vaccines for Preteens & Teens
HPV Vaccine Information
Vaccine Information for Parents 2022